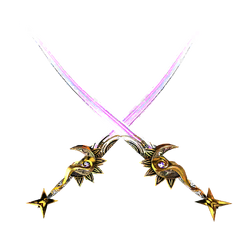 The Rakshasa are a pair of new weapons in Bayonetta 2. They are modelled after Sosun Pattah (curved Indian swords) and serve as a replacement for the Shuraba from the first game.
In-Game Description
"A pair of swords that absorbed the demon god Rakshasa and were cleansed with Soma.
Energy from Rakshasa's chakra flows from the swords into their user, making them easy to handle."
How to Obtain
Rakshasa is one of the first alternate weapons that can be obtained in Bayonetta 2. In Chapter 1, after defeating the angels in the courtyard area, the Entrance of the Gladiators Angelic Hymns Gold LP will appear where Rodin will create the weapon if you take it to him. The alternative set of Rakshasa can then be purchased at the Gates Of Hell for 29800
.
Unique Traits
Unlike Shuraba which was a hands only weapon, the Rakshasa can also be equipped on Bayonetta's feet. This allows two pairs of the weapon to be used at once, similar to Love Is Blue. Like the Kafka, the Rakshasa have an Umbran Elegance that give Bayonetta an Indian themed dress and veil. 
In Umbran Climax, the Rakshasa summon Mictlantecuhtli as their finishing demon that swoops upon the battlefield to hit enemies in a wide radius when equipped to the hands as well as Diomedes when equipped to the feet.
羅刹 Rasetsu
The Rasetsu is
Jeanne's
equivalent to Rakshasa. The hilt of each blade is colored silver to match Jeanne's preference.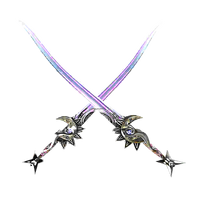 In-Game Description:
"A mesmerizing, sharp-edged pair of swords that seal the goddess of destruction and ruin, Rasetsu. When a female has these weapons in her hands, demonic energy causes her power to increase tenfold and can send lost souls away from this world to where they belong."
Gallery
Trivia
Rakshasa are demons from Hindu mythology, whose existence are recorded in the epics Ramayana and the Mahabharata. They are beings born from the breath of the deva Brahma, who were born of such bloodlust that they began eating him, and were cast out onto the earthly realm by Vishnu upon his panic. They soon became renowned for their powers over sorcery, shapeshifting, and illusion, becoming mighty warriors for both the forces of good and evil, and were infamous for their man eating, consumption of un-savattic articles, and carnage fanatical ways, especially when wars and large battles became at their worst.
Jeanne's equivalent, Rasetsu (羅刹), is literally the Japanese term for Rakshasa. In Japanese Buddhism, the most famous of Rasetsu were known to be a family of eleven demonesses, whom its ten daughters ravaged the land in search for children to feast upon; knowing of this horrific custom, Siddhartha Gautama hid one of the daughters to let the mother know of the pain and sorrow she had caused to countless mothers and families, and in penance, she renounced her ways to become the Buddhist goddess Kariteimo.
---

Ad blocker interference detected!
Wikia is a free-to-use site that makes money from advertising. We have a modified experience for viewers using ad blockers

Wikia is not accessible if you've made further modifications. Remove the custom ad blocker rule(s) and the page will load as expected.