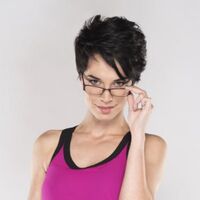 Pamela Horton is a US PlayBoy model who currently resides in Burbank, California. like Olena Dats who modeled as Bayonetta for the release of Bayonetta, Pamela was hired on to model for the release of Bayonetta 2.
Biography
Pamela Horton was born in Whittier, at the age of 9, she moved from California to the Wichita, KS area when her father was offered a job at Bonbardier Learjet. She graduated from Clearwater High School in 2006, and was voted "Most Artistic" of her class.
In the fall semester of 2006, she attended Wichita State University in Wichita, KS majoring in Psychology with intentions on becoming an Art Therapist. Pamela began modeling professionally in July of 2006. She is most known for her cover and centerfold as Playboy's Miss October 2012.
A large Nintendo fan, she hopes to one day get a career in gaming, and even hosts game stream events on her official YouTube channel.
Relation to Bayonetta
In 2014 Nintendo approached PlayBoy to help advertise the upcoming release of Bayonetta 2. Pamela was hired to portray Bayonetta on the cover of the 2014 October issue of PlayBoy Magazine. It featured a 4 page article about the game.
Pamela is also an avid Nintendo fan and gamer, in celebration of Bayonettas inclusion in Super Smash Bros. 4 she announced shed be hosting a live stream of her playing as Bayonetta on PlayBoy's official twitch channel.
When it was announced in december of 2017 that Bayonetta 3 was now in production, she announced she would be willing to return to model for Bayonetta once more for the sake of advertisement.
Gallery
External Links