Bat Within is a defensive technique that Bayonetta can purchase once she has unlocked the Beast Within ability in Chapter 6 in the original game and after the Prologue stage in the sequel. By successfully dodging an attack at the very last second, Bayonetta will briefly turn into a colony of bats and push away nearby enemies. Witch Time will also activate once Bayonetta reforms.
When playing as Jeanne, an identical technique called Moth Within is one of her default abilities. Successfully using Moth Within is the only way Jeanne can activate Witch Time by herself (without equipping Accessories). While playing as Rosa, her version is known as Hornet Within and functions identically to Bayonetta's.
Other Appearances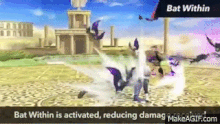 Bat Within appears in Super Smash Bros. for Wii U and Nintendo 3DS. The technique activates if Witch Time is activated too late, or if Bayonetta dodges an attack at the last second. When Bat Within activates, Bayonetta can move in the direction the player tilts the control stick, except if Witch Time was activated. Witch Time can still activate when Bayonetta is hit between the activation windows for both it and Bat Within, though the duration of Witch Time is slightly shorter if this happens. Bat Within also halves the damage Bayonetta took, rather than completely negating it.