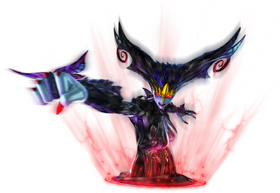 Madama Butterfly
is the name of the
demoness
who
Bayonetta
has made a pact with in order to use her power in combat. She takes the form of a woman with swallowtail butterfly traits and has a dark black and purple dress, butterfly wings and head piece that resembles a butterfly's head. She has butterflies on her hands and shoes, shown when she is summoned. Her counterpart is
Madama Styx
.
In the first game, only Madama Butterfly's limbs manifest, most commonly as the Wicked Weave attacks Bayonetta uses in her battles. In Bayonetta 2, it is revealed that she rivals the demonic dragon Gomorrah in size and strength when she is summoned by Bayonetta to headbutt her enemies.
Her full capabilities are still unknown.
Book of Infernal Demons
Edit
"Madama Butterfly is a demon taking the form of a woman who left this world under unfortunate circumstances, only to be reincarnated in Hell. Unlike her beautiful, swallowtail butterfly-like appearance, this demon is particularly brutal, and her reputation is well known even amongst the denizens of Inferno. 
If a conjurer were to sign a contract and trade her soul, the demon would impart upon her enormous power and great wisdom."
Role in BayonettaEdit
In the first game, only Madama Butterfly's arms and legs are shown during Wicked Weave attacks. Her limbs sometimes change color when equipping certain weapons and attack in different ways from claw strikes to palm thrusts. She also forms Bayonetta's shadow when it is cast and her wings are used to give the witch an extra boost in height when she jumps.
Role in Bayonetta 2Edit
In the sequel, Madama Butterfly can now be summoned fully during Umbran Climax and certain Torture Attacks during boss fights. All of her previous attack patterns and provided abilities are included along with some new ones such as uppercuts, headbutts and flying kicks. Before Bayonetta could only jump with the aid of Madama's wings, now she can also glide with them to a certain extent. You also get to take control of the demoness as you go toe to toe with Temperantia. It is unknown if any other powers will be shown.