Madama Butterfly
Comments

5
163pages on
this wiki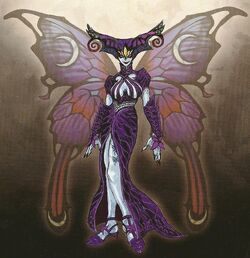 Madama Butterfly is a demon taking the form of a woman who left this world under unfortunate circumstances, only to be reincarnated in Hell. Unlike her beautiful, swallowtail butterfly-like appearance, this demon is particularly brutal, and her reputation is well known even amongst the denizens of Inferno.
If a conjurer were to sign a contract and trade her soul, the demon would impart upon her enormous power and great wisdom." - The Book of Infernal Demons.
Bayonetta's demoness that she made a pact with is Madama Butterfly, who takes the form of a swallowtail. Concept art shows that she has a dark black and purple dress, butterfly wings and an odd dual beehive hairdo. She has butterflies on her hands and boots, shown when she is summoned. In Bayonetta 2, during the fight against Gomorrah, it is revealed that she rivals the demonic dragon in size and strength, seen whenever Bayonetta summons her to headbutt Gomorrah. It can be speculated that she is possibly even larger than the dragon. It is said that those who make a pact with this demoness are granted great wisdom and power.
This power within the hands of Bayonetta casts fear amongst all who challenge the Umbra. Through Madama Butterfly's power, Bayonetta has crushed those of the Audito, and even brought the almighty Jubileus to her knees. Bayonetta 2 is expected to give us more information on Madama Butterfly.
Bayonetta
Edit
In the first game, only Madama Butterfly's arms and legs were shown during Wicked Weaves. Her limbs would sometimes change color when equipping certain weapons and even attack differently. Her only attack patterns were straight and sweep punches and kicks, clawing sweeps and grabbing enemies when executing Torture Attacks against bosses.
Also if you look at Bayonetta's shadow, it isn't actually Bayonetta herself, but rather the silhouette of Madama Butterfly.
Bayonetta 2
Edit
In the game's sequel, Madama Buterfly can now be summoned fully during Umbran Climax and certain Torture Attacks during boss fights. All of her previous attack patterns are included along with some new ones such as, uppercuts, headbutts and flying kicks.
During the fight with Gomorrah, Bayonetta summons Madama Butterfly's arms to pulverize Gomorrah's head when he's unconscious and headbutt him after completing the attack or during Umbran Climaxes.