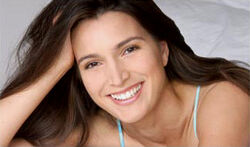 Hellena Taylor is a British actress and the English voice artist for Bayonetta in all of her appearances.
Biography
Hellena was born in West London and was a member of the Surrey Youth Theatre and National Youth Theatre of Great Britain as a teenager. She attended and trained a 3 year course at the London Academy of Music and Dramatic Art- LAMDA and has done numerous theatre and live action film roles throughout her career.
Roles In Theatre (Partial List)
The Sisters Rosensweig: Tess
Pygmalion: Eliza Dolittle
Killing Him: Kate
Bunbury
Romeo & Juliet: Juliet
Three Sisters: Masha
Westside Story: Maria
Cymbeline: The Queen
The Country Wife: Margory Pinchwife
Marat Sade: Simone
Anything Goes: Hope Harcourt
Showboat: Julie
Barabarians: Katya
House Of Bernada Alba: Amelisa
Roles in Film
Barcelona: Greta
Ways to Live Forever: Mother
The Sweetest Thing: Spinner & Singing Neighbor
Cockpit: The Rule of Engagement : The Government Agent
Americano: Maria
Liar's Poker: Club Girl
The Hunt: The Girl
Roles In Television
Stargate Atlantis: Asuran Councilor
Wild 'N' Out: Demi Moore
The Burning Zone: Maria
Sunny Stories: Teenage Enid Blyton
Circle Of Deceit: German Au Pair
Not Quite Jerusalem: Gila
Roles as Voice Actor
Bayonetta: Bayonetta
Bayonetta 2: Bayonetta, Rosa
Super Smash Bros. 4: Bayonetta
Anarchy Reigns: Bayonetta
Pirates of the Caribbean 3: Cockney peasant woman, Prostitute, Singapore citizen
The Golden Compass: Serafina
The Saboteur: Veronique
Dragon Age: various characters
Valkyrie Profile: Covenant of the Plume: Phiona
Blazing Angels 2: French Journalist
Sanctuary: Whisp
As well as the game roles above, Hellena has also done additional voice work for other media including, television announcements, film trailers, radio, commercials, anime and cartoons, including respising her well known role of Bayonetta in the film Bayonetta: Bloody Fate.