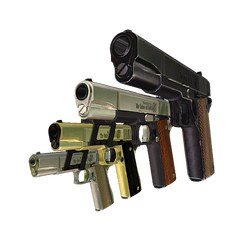 "
Now this is cheeky, throwing me these cheap toys!
"

–Bayonetta, Prologue - The Vestibule
The Handguns are a weak weapon, rarely used for anything other than making the game slightly tougher. They function exactly the same as the Scarborough Fair in regards to combo attacks.
In the first game, the Handguns are usable on a first play through during the Prologue where Bayonetta will refer to them as 'toys' due to their weak strength and firepower. She eventually replaces them with Scarborough Fair in the next chapter.
In Bayonetta 2, the Handguns are once again Bayonetta's initial weapons when the angels attack in the Prologue. After fighting off enough angels, the guns all break from the stress, to which Bayonetta remarks this situation is why she would never usually buy them on sale. She soon receives the Handguns' replacements, Love is Blue.
In-Game Description
Bayonetta
"Automatic handguns produced by Rodin. Unable to withstand the intensity of magic-imbued bullets or melee attacks, those capable of such feats must be careful in holding back their full power."
Bayonetta 2
"Automatic pistols from Rodin to serve as some means of protection in the human world. Designed to be used by normal humans, these weapons are unable to withstand concentrated amounts of magic when firing, so witch energy must be controlled carefully."
How To Obtain
Bayonetta
Initially playable in the Prologue stage by default. For later play, simply complete the game on Normal and these 'toys' are yours.
Bayonetta 2
Initially playable in the Prologue stage by default. For later play, simply complete the game on any difficulty and these 'toys' are yours.
Unique Traits
The Handguns' most notable trait are their weaker damage and inability to produce Wicked Weaves on the limb the guns are equipped to. Their Bullet Climaxes and Charge Modifiers function exactly the same as Scarborough Fair and Love Is Blue, albeit with less damage dealing potential.
This combination of low damage and lack of Wicked Weaves, however, gives them a valuable place in Alfheims that require the execution of many Torture Attacks as they can rack up numerous hits to build up magic without killing your enemies outright.
Gallery
Trivia
The Handguns are dead ringers for Dante's signature guns Ebony & Ivory, from Devil May Cry, and the heel-guns are identical to Luce & Ombra, his Father's guns.
Due to the low attack power of these weapons, they were originally referred to as 'crapguns' by the creators.[citation needed]
They are modeled after the M1911 pistol.

Items
Accessories
Rodin's Treasures
Techniques

Nintendo Content
Ad blocker interference detected!
Wikia is a free-to-use site that makes money from advertising. We have a modified experience for viewers using ad blockers

Wikia is not accessible if you've made further modifications. Remove the custom ad blocker rule(s) and the page will load as expected.