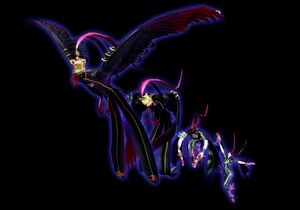 Crow Within is a transformational ability that Bayonetta can purchase from The Gates of Hell (for 20,000 Halos) after unlocking the Beast Within ability (in Chapter 6). By double-tapping the RT (Xbox 360), R2 (PS3), or ZR (Wii U)  button while in mid-air; Bayonetta will transform into a crow, allowing her to fly over large areas and fire feathers at her enemies. While transformed, a small gauge will appear indicating how long Bayonetta can stay transformed. Once the gauge is empty, she will change back automatically. She will also change back by pressing the RT/R2/ZR button again, when getting too close to the ground, or by firing her basic gun (X button for Xbox 360, Square for PS3,Y for Wii U.)
Jeanne's version of this technique is called Owl Within and functions exactly like Bayonetta's.
Rosa's version is called Falcon Within.
Little King Zero's technique is called Phantom Within. It functions the same way, but there is no change in his appearance during the transformation.
Additionally, while using the technique, by pressing Triangle/Y/X and Circle/B/A you can use feathers as a weapon. Pressing the punch button will summon a pack of feathers that you can use to stab your enemies with by pressing punch once more. By pressing the kick button the feathers will encircle you and pressing the kick button again will shoot them out all around you. Although, without pressing the kick button again, and allowing the feathers to continue to encircle your character, any enemy that comes into close proxemity of your character; will automatically be hit with the encircling feathers.