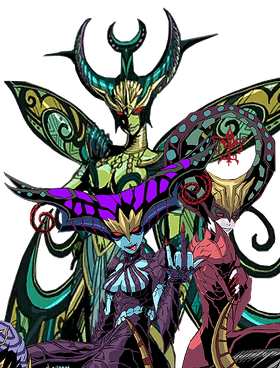 The Umbra Witches usually make a pact with a powerful demon to grant them incredible strength and power. They can summon the fists or heels of the demons when attacking enemies. However, they need a medium through which to manifest these spectres, usually their hair. Only three demons have been revealed so far, with one heavily implied via item descriptions, so it is unknown how many others are roaming around Inferno. It is said that when an Umbra Witch dies, their soul is dragged back to Inferno, where, as Rodin puts it, they are forced to "wander around scared shitless for eternity."
All known Contracted Demons share the same characteristics, appearing as a beautiful, slender being with a variety of soft skin colors, red eyes and a domineering headdress that is usually shaped or patterned in accordance with their insect designs (with all known Madamas based on winged insects). While Madama Butterfly and Styx share the same dress design (with subtle differences) Madama Khepri largely deviates in her own design. So far all known Contracted Demons possess a pair of intricate insect wings that allow them to fly. 
Those who have made pacts with demons often have distinct markers, such as a shadow of their patrons instead of their own, insect patterns showing up in magical attacks, and various clothing motifs. 
Known Contracted Demons
Madama Butterfly is Bayonetta's demoness that she made a pact with. Taking the form of a woman with a swallowtail butterfly theme, she has a butterfly-shaped headpiece and a dark purple dress, her wrists and heels also have butterflies on them. Madama Butterfly has a reputation within Inferno, being known for her brutality and is the target of a grudge by a lesser demon called Alraune for unknown reasons.
Those who make a pact with the Mistress of Atrocity are granted enormous power and great wisdom.
Madama Styx is the demoness that Jeanne has made a contract with. Unlike Madama Butterfly's butterfly theme, Styx is given a moth theme, with several on her wrists and heels and a red moth symbol in the center of her ring-shaped headdress, her dress is also identical to Madama Butterfly's, being colored a shade of deep red instead. Madama Styx is also known to hold a position of power and territory within Inferno, governing the River Styx as its Queen.
Those who make a pact with the Decider of Ends will be given great power and knowledgeable counsel.
Madama Khepri is the infernal patroness of Rosa. In contrast to the butterfly and moth imagery of her fellow demonesses, Khepri is shown with a scarab beetle theme, with beetles on her arms and feet, her headdress shaped like the pincers of a beetle and possessing her own stylized dress and insect wings. Madama Khepri is a goddess, with the power to control time itself and the sun, Khepri also appears to have precognition or foresight.
Those who make a pact with the Protector of Time are given an almost infinite knowledge of time and the ability to control it.
Little is known about the demon other then the fact that the demon was in a contract with the witch, Eva.[1]
Gallery
Trivia
Madama Butterfly is based on the character and opera made by Giacomo Puccini, both of these characters left the living world under unfortunate circumstances.
Madama Styx's name is a reference to the goddess Styx, a deity whose own River Styx is a location used by Immortals to promise their oaths.
Madama Khepri is a reference to Khepri, one of the Gods of the Sun and the symbol of eternal life in Egyptian mythology.
Madama Butterfly, Styx and Khepri can be seen in the shadow of Bayonetta, Jeanne and Rosa respectively.
Reflist
↑ Bayoneta Bracelet of Time Description - "Eva, a truly extraordinary witch, entered into a contract with the legendary dark knight, and then faced the amassed armies of Inferno."