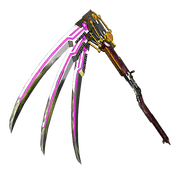 Chernobog is a new scythe-like weapon first featured in Bayonetta 2. Appearing as a triple-bladed scythe with blades that move like a claw, Chernobog attacks with wide-reaching slashes much like the Rakshasa blades with slower speed but more power.
In-Game Description
"A scythe containing souls captured by the god of death Chernobog, who had been expelled to the farthest depths of Inferno.
Rodin infused the scythe with some particularly exquisite souls, restoring the weapon to its former glory."
How to Obtain
During Chapter 5: the cascade temple, the weapon can be obtained by locating the first half of its LP in a hidden area on the left hand side on the bottom of the lake. The other half is located in a bright room in "The Grand Hall" after exiting the circular hole that stops the water section.
Unique Traits
Chernobog's unique attack is the ability to fire its three blades much like a rifle when the attack button is held down. The weapon is also hands only, much like Shuraba from the first game. When using Wicked Weaves or Umbran Climax, Chernobog's attacks are replaced with three giant scythe blades that cut apart enemies.
In Umbran Climax, the Chernobog summons Mictlantecuhtli to launch enemies into the air or sweep a wide area, depending on the combo.
Inferno Slayer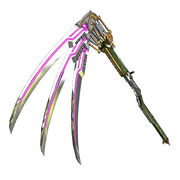 Inferno Slayer is Jeanne's equivalent of Chernobog. The color of the hilt is a dark green color, with the knob and blades being lighter colors of Chernobog.
In-Game Description:
"A scythe used by a sage to hunt demons who wandered into human villages. His merciless killing of demon after demon earned him the name Inferno Slayer by the villagers. At first they praised him, but eventually they grew afraid of his power and expelled him from the village, no longer remembering him as a protector. No one knows what happened to the sage after he was expelled, and the scythe's whereabouts were long since lost to the sands of time. Eventually, Rodin heard rumor that a demon in Inferno possessed it; the weaponsmith claimed the scythe for himself, along with the soul of the demon. The scythe was then given the name of its previous owner, and became an instrument for slaying demons and angels alike."
Gallery
Trivia
Chernobog is named after the Black God from Slavic mythology. Not much is known of him except he is depicted as being evil. In Disney's Fantasia, Chernobog (spelled Chernabog) appears in the "Night On Bald Mountain" sequence. He is depicted as a satanic deity, further implying his evil origins.