Home
Talk

4
163pages on
this wiki
The Bayonetta Wiki is a database for everything related to Bayonetta that anyone can edit! This wiki contains unmarked spoilers as well as strong language and suggestive themes.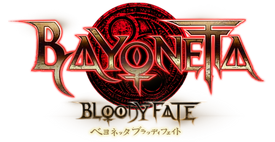 Bayonetta: Bloody Fate is an upcoming anime adaptation of Bayonetta. It will be done by GONZO and will air in November later this year. The Anime is set to feature all of the major characters such as Jeanne, Rodin, Luka, Father Balder, and of course Bayonetta herself. read more...

December 4th, 2013: The Fluid Wikia layout has gone live. Bayonetta will be getting a few cosmetic touch ups in the coming days. If you have any comments or suggestions for the front page leave them on my talk page!
December 2nd, 2013: Bayonetta: Bloody Fate will be available for purchase from Amazonfor imports on January 24th.
November 23rd, 2013: Bayonetta: Bloody Fate has released in Japan.
June 12th, 2013: The Wiki's front page has received extensive visual updates. Please leave any feedback or comments on my talk page.
June 11th, 2013: A full trailer for Bayonetta 2 was released during Nintendo's segment of E3!
October 3rd, 2012: Now that the Wikia Layout and Navigation updates have gone live the Bayonetta Wiki's cosmetic changes have been fully completed, merging Bayonetta 2's new style with the first Bayonetta's. If you're having problems seeing the changes clear your browser's cache. Please leave a message on my talk page if you wish to leave any feedback or suggest any changes to the wiki's new look!
September 13th, 2012: Bayonetta 2 announced as an exclusive title for the Wii U!