JP release
February 2, 2015 (404 Page)
March 31, 2017 (Steam Version)
US release
February 2, 2015 (404 Page)
March 31, 2017 (Steam Version)
UK release
February 2, 2015 (404 Page)
March 31, 2017 (Steam Version)
AUS release
February 2, 2015 (404 Page)
March 31, 2017 (Steam Version)
Game modes:
Single-Player
Platform(s):
Web browser
Digital Download

8-Bit Bayonetta, formerly known as Angel Land, is a misleadingly-named, 16-bit style action/shooter game for web browsers, and available for download on Steam, based on the Bayonetta franchise.
The game features simplistic gameplay that uses one key for jumping and one for attack. Bayonetta, as the player character, stands at the left side of the screen while ground and aerial enemies slowly move towards her. Bayonetta cannot move, and the objective is to kill as many enemies as possible before they reach her. The score that players receive can be shared on Twitter. A game just for fun.
Availability
It appears on the 404 page of Platinum Games' website.
On March 31st, 2017 Angel Land was uploaded to Steam by PlatinumGames, which players can now download for free to play when ever they wish.
Development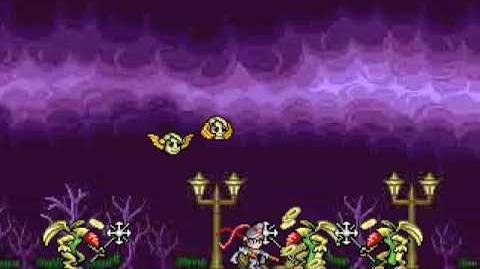 Angel Land was initially announced announced on Platinum's
BAYO Blog
in 2010. It announced the decision to expand the
Bayonetta
series into 2D with a new game produced by Yusuke Hashimoto and directed by
Hideki Kamiya
. A video on the official Platinum YouTube channel showed a retro platformer game featuring Bayonetta fighting enemies, complete with features such as
Witch Time
. The blog post stated the game would be published by SEGA before finally confirming that it was an April Fools' joke.
On February 2nd 2015, Platinum employee JP Kellams tweeted that the studio had produced a new game, posting the URL leading to the 404 page on the Platinum website which contained the 'new' version of Angel Land.
On March 31th 2017, the game was released on Steam, as a April Fools joke. This was the first game of Bayonetta released on PC. A few days ago the release, the game was removed from Steam.
Trivia
The URL for Angel Land originally posted by Kellams includes the keyword taipei. This is assumed to be a joke about the Taipei Games Show 2015, where a sequel to Metal Gear Rising: Revengence, another game by Platinum Games, was supposedly teased. With the page leading to a 404 error, it is not clear if Kellams was poking fun at the false rumor or if he was further teasing the existence of the game.

Ad blocker interference detected!
Wikia is a free-to-use site that makes money from advertising. We have a modified experience for viewers using ad blockers

Wikia is not accessible if you've made further modifications. Remove the custom ad blocker rule(s) and the page will load as expected.